Hammer Lane Apparel is a brand dedicated to providing unique designs and high quality products inspired by those who live life on the road. It is a brand that represents the individuals out there that are always putting in extra effort and taking pride in what they do. We understand the commitment and hard work necessary to stand out and to be different and that is what Hammer Lane is all about. We built this brand for road warriors that take action and aren't afraid to use the Hammer Lane to speed past road blocks in order to accomplish their goals.
Our passion is to provide you with apparel you'll love. We work fast to bring you new designs, to get your orders delivered quickly, and to provide Hammer Lane style customer service! From owner operators to fleet managers, mechanics, bikers, truckers, gearheads and professional truck drivers, we design and build our shirts with you in mind.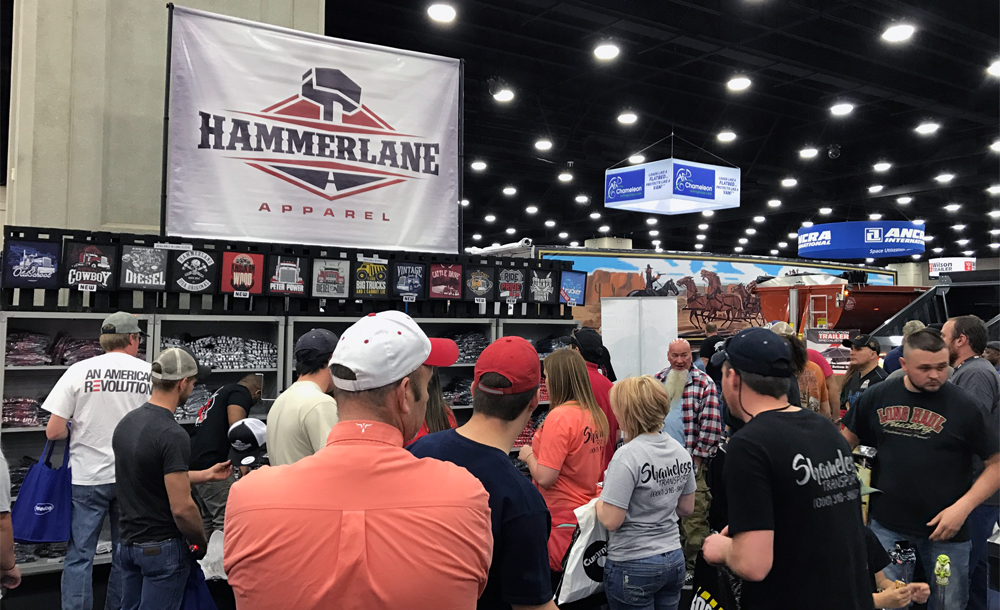 Why is Hammer Lane Apparel right for you?
Lighter - No, this will not improve your fuel efficiency, but it will help prevent that heavy weight feel of a shirt while you're working outside on a hot summer day. No one likes a sweaty shirt sticking to them while they are on the job, our light texture helps prevent this from happening, while also maintaining the long lasting durability you should expect.
Ultra-Soft - There isn't anything like being on a long haul stuck in uncomfortable clothes. Most people in the Heavy Truck Industry have to spend time away from home while traveling on the road and the least we can do is provide a shirt that gives them some of that home feel comfort. We want every Hammer Lane shirt to be your new favorite shirt so we go the extra mile to bring you extremely soft materials. As soon as you get your new shirt, please feel free to rub it across your face and you will feel the difference.
Water Based Printing - Most companies in the apparel industry use traditional screen printing techniques to print their designs and that results in heavy & thick ink on both sides of the shirt. Normally that is not a big deal, but for Hammer Lane, every bit of comfort makes a difference so that we can provide you with the best. We spend the extra money to use water based printing on a variety of our shirts so that you won't have to feel the ink of the designs. You want to be able to feel a nice breeze through your shirt and this is how we make that happen.
Hammer Lane USA - All of Hammer Lane Apparel is designed and printed right here in the United States.